About Gitcharoo
Basic Information
About Gitcharoo
Biography

I used to drive an '02 4.7L, Dodge Dakota, Quad Cab 4x4 until I was plowed in a head-on. I also owned my dad's mid-life crisis an '85 Corvette, 350 TPI.

Now I have my Corvette in my pick-up truck... the Dodge Magnum R/T is the best car I've ever owned!!
Location

Fort Wayne, Indiana
Interests

Sci Fi, Star Trek, Working on the House and Yard, Pugs
Gender

Male
Occupation

Architect
Year

2005
Model

R/T
Engine Modifications

Diablo Predator U7135
K&N Air Charger 63 Series
Blastin' Bob's 7db resonator delete kit
Exterior Mods

20 x 8.5 Helo Tease Wheels
255 / 45R - 20 Nitto NT 420S
Custom black paint and pin stripe.
Carriage Works upper and lower billet grille.
Xentec 6000K HID lows beams and fogs.
Custom fog light trim to match grille.
Chrome bumper corner inserts.
Interior Mods

LED cabin lamps
Chrome halos around door pulls and speakers
Audio Mods

Boston Acoustics with six CD changer and Sirius Radio (the factory stuff does just fine)
Misc Mods.

Custom painted engine cover
Hydraulic load-leveling tow package
UConnect with auto-dimming rear view mirror
Mopar remote starter
Favorite Links

www.lxforums.com
Profile Welcome Message

Dogs are the BEST kinds of people...
Signature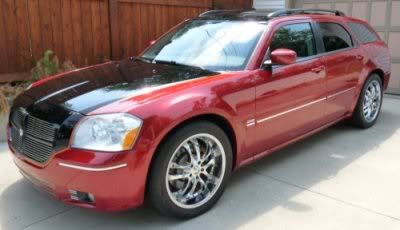 2005 Inferno Red RT
Diablo Predator and the 91 Octane CAI Tune
K&N Air Charger 63 Series, Blastin Bob's 7 db kit
Helo Tease Chrome Wheels, 20" x 8.5"
255/45R-20 Nitto NT 420S (I like some sidewalls)
Carriage Works billet grille with custom fog light inserts
Custom Paint
Stock RT headlamps with 6000K HIDs
Statistics
Custom Dodge Magnum Gallery
Total Media

11
Last Upload
Total Comments

0
Total Posts
Total Posts

231
Posts Per Day

0.09
General Information
Last Activity

Yesterday

05:10 PM
Join Date

06-19-2006
Referrals

0
1

Friends

Showing Friends 1 to 1 of 1
iTrader Profile
Recent Ratings

Past
Month
Past
6 Months
Past
12 Months
0
0
0
0
0
0
0
0
0