If you can change your oil you can do this!
This is on a 5.7, not sure if it is different for the V6 models or the AWD
You'll need this:
H14 Hex bit: (Picked up a three pack at Autozone for$12)
A fluid transfer pump: (Autozone has this one for $7)
2 Quarts (2 bottles) of 75-140 synthetic gear lube: (I used Mobile 1)
Now your ready to start the job, drive the car for a while to warm up the rear axle fluid so that it will drain more easily then raise the car and make it level. I used ramps for the front wheels and jack stand for the back.
Loosen the top bolt on the driver side. This will allow air to flow when you start draining. You can remove the bolt, but fluid might start to leak out. Mine had junk in the bolt and made it seem like the 14mm was too big. I took a mallet and tapped the drive in the fitting. You might need to do the same or scrap some of the junk out.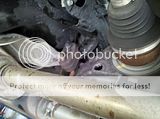 Get a bucket and remove the lower bolt on the pass. side and let it drain (in the meantime, remove the upper bolt, if not already done):
While it is draining get your pump ready. With the pump I purchased I had to cut the top off the fluid bottle so it would fit in:
Put the lower bolt back in and snug it up. I have heard people using Teflon tape of the bolts but I didn't and didn't have any issues.
Stick the pump in the bottle and make sure you attach one of the smaller tubes to the bottom of the pump so it reached the bottom of the bottle. Stick the fill tube in the axle upper hole (The one I used had a clip like part attached to the fill tube. This works great because I needed two hands to pump and didn't have to worry about the fill tube falling out of the hole (insert funny joke here). Now start pumping, you'll need almost 2 bottles to fill it up.
You'll know it's full when fluid starts coming out of the upper hole, where the tube is, so keep that bucket handy. Now go ahead and put the bolt back in tight and you're done. <!-- / message --><!-- sig -->