To install an aftermarket radio:
EDIT: IN A BASE SYSTEM
Get a mounting kit, wiring adaapter, and an antenna adapter.
Remove the stock radio bezel:
remove the rubber mat under the ashtray
pull on the ashtray to get it and the heated seat button panel off
disconnect the cig lighter
pull on the stereo bezel and it pops out
disconnect the wires to all the panels on the bezel
Remove the sock radio
remove the 4 screws
disconnect the radio wires (there will be a small connector, it is for the
CANBUS DO NOT USE FOR ANYTHING
)
Hook up the wiring adapter
to the new radios wires, following the
manufactures instructions
NOTE1:
There is no ignition controlled wire in the stock harness. You have to tap into a ign controlled source, the most common is the cig lighter.
NOTE2:
If you have the smokers group, fuse #18 needs to be moved to
the IGN slot (see photo)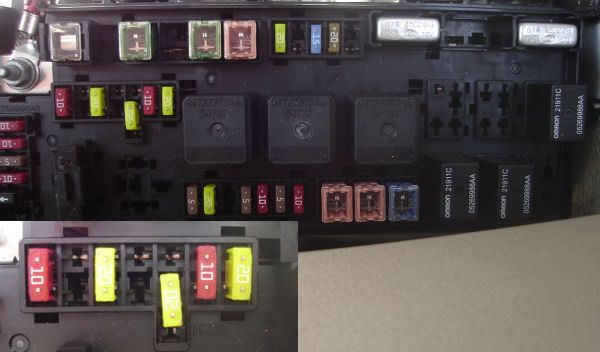 Attach the antenna adapter.
Mount the radio in the dash kit.
Install the dash kit with the 4 screws.
Install the stereo bezel after hooking up the wires to all the panels.
Install the ashtray/seat heater panel after hooking up the cig lighter.
Install the rubber mat under the ashtray.
Turn on radio and set the stations and TADA!!