The driver's door window regulator went out a while back and needed to be replaced on my Magnum. You can't purchase any parts separately for the regulator assembly and the regulators are only available from a dealer. My local dealer wanted $320.00, I said I'd pass, and I found the best price at
Mopar Parts for Dodge, Chrysler and Jeep: MoparPartsAmerica
$194.00 delivered to my door.
Some of my pictures didn't come out to good and were unusable.
Not too many tools are needed for the job; Phillips screwdriver, 10mm socket and ratchet, razor blade, a 24" piece of PVC pipe (to hold up the window) and electrical tape to repair the weather barrier.
There are 7 screws that need to be removed from the door panel two under these covers and 5 along the lower edge. The covers can be a little tough to open without scratching the door panel ,so be careful...
You also need to remove the plastic mounting clips. To take them out slightly push in the center of the clip, I used my car key. Once the center is depressed carefully lift the door panel away from the door. To remove the door panel kind of press it up and forward. Once it is free for the door there is a green clip that holds to rod from the door handle, carefully give it a twist to remove. If it breaks, like mine did they are about $8 at the dealer, but I think an throttle linkage clip would work (Kragen $3 for 6).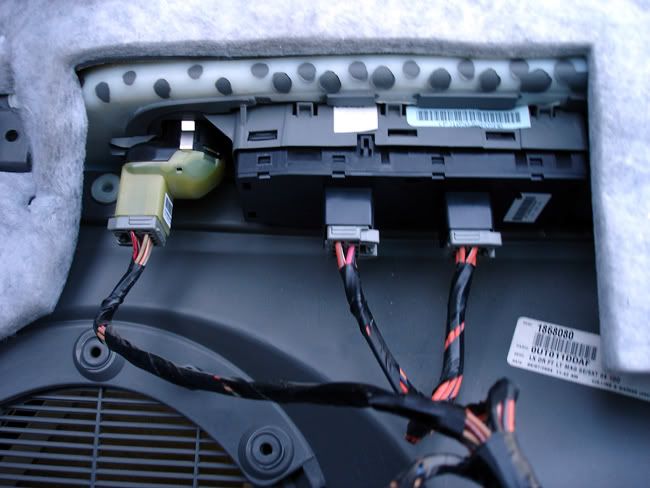 There are three plugs to remove, all are different so they can't be mixed up.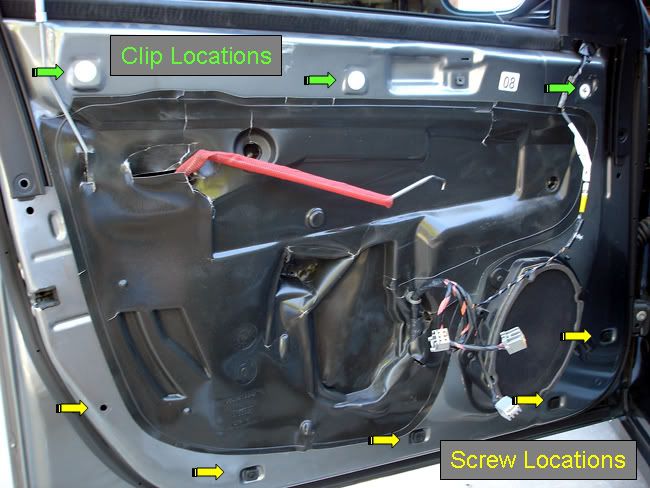 This shot shows the door panel screw and clip locations. To remove the barrier panel which is held in place with very sticky glue, I used a straight razor to cut between the door and the barrier. This thing ripes very easy, so be careful...
To remove the regulator there are several 10mm bolts, all are visible except the one under the speaker. Once the bolts are out it kind of just twists out, the part is very flexible.
Here is the new regulator. On mine the little plastic clips that hold the glass clamps to the regulator broke, the motor was still fine...Carefully twist the new regulator into the door and remount the unit. Lower the glass down into the mounting clips and tighten the bolts, not very tight as you don't want to break the glass 11in/lbs I think. I needed to temporarily plug in the window switch to lower the regulator to get to the mounting clips.
Getting the door panel back on the three mounting clips can be a little tough, take your time so you don't break any clips. Reattached the screws and clips and your done. Also be sure to plug back in the speaker and door panel switches...
Hope you find this helpful and if you have any questions give me a shout...
While I had the door panel off I added a strip of Dynomat in the door...