Discussion Starter
•
#1
•
Since Im hardly in New York anymore, I took the chance last week while I was home to do some things with the mag that I have been saving up time for doing.
First was the interior LEDs that I changed...now red and a bit spooky...but nice and match the car well. Next I attempted to change out my headlights for blacks. Well, took me about 10min to find the hidden screw (I knew it was there, but couldnt get my bit on it). Had my mechanical fingers ready but of course dropped the screw anyway :doh:. Then thought I broke something when I got that ball/socket thing off. And finally, the light was loose...but after 3 or 4 people trying to get this thing out, no good...we couldnt for the life of us get it past the fender and bumper. So it shouldnt be shocking that I was annoyed...put everything back together, minus the lost screw and brought it to the shop a couple days later. Had the shop install my new tinted tails and color matched spoiler as well. Oh and the pedals also. And I had a K40 Calibre Bluetooth Radar Detector/Laser Diffuser thingamajig put in. Think thats it...I also recieved my A-Pillar pod, but since theres nothing to put in there yet..thats on hold. Forgot to get a good pic of my shift knob, sorry. But thats kinda new too.
And Avon's spoiler and tails look great.
Heres highlight photos...more photos are here ----->>
CLICK FOR MORE PHOTOS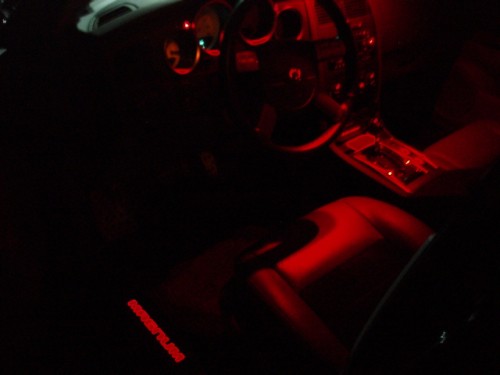 Red Interior...Picture actually makes it look odd, but is very tasteful and nice in person
Black Eyes
Tinted Tails and Color Matched Spoiler (Avon)- Sorry shes so dirty, was a nasty day too